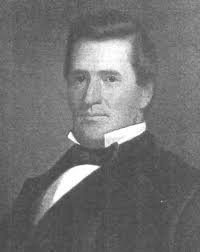 The Alexander Doniphan Chapter, NSDAR, was formed on March 6, 1909, and was named for Colonel Alexander William Doniphan, a Missouri orator, jurist, statesman, soldier, and Christian gentleman.
In 1912, it was through the efforts of the Alexander Doniphan Chapter, NSDAR, that the United States flag was hoisted above the Clay County Courthouse for the first time in more than 50 years. They also placed a flag at the public school the same year. The chapter marked the grave of Richard Simms, an American Revolutionary War soldier, who was buried in Clay County. In 1919, at the entrance of the old Clay County Courthouse, the chapter placed a memorial table honoring Clay County Word War I heroes. Members of the chapter wrote and edited a book, Clay County Missouri Centennial Souvenir 1822-1922, which was published by the "Liberty Tribune" in 1922 and for which the members won first prize in the historical section of the centennial parade during the clay County Centennial in 1922. A second edition, Clay County Missouri Sesquicentennial Souvenir, was published in 1972.
In 1924 the chapter contributed a bronze tablet engraved with the American's Creed for the then new Liberty High School. The chapter also placed a marker in 1969 at the old Liberty Spring stating that Liberty was founded around this inexhaustible spring on July 1, 1822, and is dedicated to the pioneer settlers of the area.
In 2000, a marker was dedicated to Colonel Alexander Doniphan near the Presbyterian Church on Main Street in Liberty, the site where his home once stood. The marker states "A Native Kentuckian, Alexander Doniphan, lived at this site for 30 years. He defended the Mormons and was one of the founders of William Jewell College. During the Mexican War, 1846-1847, he commanded the First Regiment Missouri Mounted Volunteers in the longest march ever made by an American Military organization. During this expedition, he became known as 'The Hero of Sacremento'.
In 2008, the chapter was a major contributor to the commissioning of a bronze bust of Alexander Doniphan which now resides in the Hall of Famous Missourians in the Missouri State Capitol in Jefferson City, MO. Alexander Doniphan Chapter celebrated it's centennial on March 9, 2009, through planning a community-wide ceremony on April 18, 2009. In September 2020, the chapter placed a marker for the Battle of Liberty/Blue Mills Landing in Liberty, MO, at the corner of Ruth Ewing and 291 Highway.
Throughout the Chapter's history, members have served as State Committee Chairs, District Directors, State Officers, and have remained involved at the National level. The Alexander Doniphan Chapter, NSDAR, is proud of her service to Liberty, Clay County, and Missouri.